When you're ready to drive home in a new vehicle, you'll have to determine if you'd rather lease or buy. We here at Fred Beans Genesis will provide you with information on leasing vs. buying, so you can decide which one is right your driving needs around Doylestown, Chalfont and Warrington.
If you have any questions while reading through our lease vs. buy guide, don't hesitate to contact us.
Leasing a Vehicle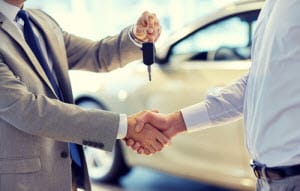 If you want to experience the latest features on a new vehicle for a short while, you may want to think about leasing.
If you lease a vehicle, you'll have it for a certain amount of time, depending on your lease term agreement. This could be anywhere from a few months to a few years. After the lease term ends, you can either return the vehicle to the dealership or buy it.
During a lease term, your monthly payments will generally be lower than a car loan, as you're simply paying for the depreciation of the vehicle, plus taxes and fees. But, even though your payments would be lower, you'll still need to keep miles and maintenance in mind.
One of the items mentioned in a lease agreement will be miles, specifically how many you can drive each year. The average number of miles allotted is 12,000, with the range being between 9,000 and 15,000. If you go over your agreed number of miles, that could result in paying an overage fee.
You'll also need to make sure to get routine maintenance done to the vehicle, like tire rotations or oil changes. Even though you probably won't need major repairs done within the time of having the vehicle, you still want to ensure the vehicle's quality. This is to help keep it running well, plus abide by the terms of your lease agreement.
Buying a Vehicle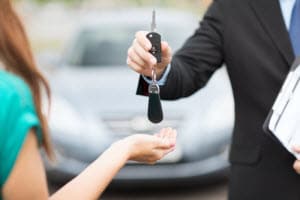 If you want to keep a vehicle for a long time and have the freedom to make any changes to it, buying may be a better option for you.
When buying a vehicle, unless you have the money to pay for it completely, you'll need to take out a car loan. Right away, you could help lower monthly payments with a down payment. And the more you put down in the beginning, the less you'd pay each month.
But since you're paying off the entire vehicle, along with interest and other taxes and fees, your monthly loan payments would still be more than lease payments. And unlike a lease, the value of a bought car would depreciate, which is something to think about if you ever want to sell it.
However, once you pay off a car loan, you'll only need to pay for gas, vehicle insurance, or maintenance, instead of also factoring in monthly loan payments.
Plus, if you decide to buy, you'll get to make any kind of cosmetic changes you want, like changing the seating material from cloth to leather. You'll also be able to drive it however far you want, as there are no mileage restrictions like there are in lease agreements.
Contact Our Philadelphia Area Finance Department Today!
There are benefits to leasing vs. buying, but which option is the best fit for you depends on what you're looking for. If you need more information on whether to lease or buy a vehicle, contact our Fred Beans Genesis Finance Center near Doylestown, Chalfont and Warrington today.