At Fred Beans Genesis, we understand the importance of doing thorough research before purchasing a new car. To help our customers in Doylestown, Chalfont, and Warrington, PA, we've compiled a list of Genesis vehicle reviews. We have a comprehensive guide for every model in the Genesis family. Click on a vehicle summary to begin gathering information!
2018 Reviews:
2019 Reviews:
Get to Know Your Options with Our Genesis Reviews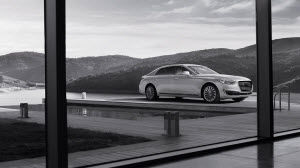 With so many sites dedicated to vehicle reviews, gathering information on a car can often be frustrating. Fortunately, Fred Beans Genesis makes the process easier by providing you with the facts and figures to assist you in narrowing down your search.
Our reviews offer information about each model. These details include engine performance, cargo space, and technological features of each Genesis vehicle. You can also get a sense of customizable options for your car, such as interior fabrics and exterior colors. This allows you to efficiently compare multiple models to determine which one is ideal for you.
The Importance of Genesis Vehicle Reviews

Car reviews are some of the most popular ways to gather information about different automobiles that you may be interested in. By doing your research, you can better understand what you really want in a new vehicle.
Once you decide to schedule a test drive, the knowledge you obtained will help you pinpoint the perfect car for you. In the long run, the car buying process will be faster and you'll feel more confident in your buying decision.
They can also educate you about additional packages and model specifics that you may not have been aware of before you began your car analysis. These insights can assist you further in the showroom because you'll have an idea of which package you'd like included in your Genesis.
Check out our reviews on this page to find out more about the latest Genesis models. For anyone in the Doylestown, Chalfont, and Warrington areas who want more information, please feel free to contact us. Fred Beans Genesis is here to help!