Whether you're just trying to get a little more information or you're on the hunt for a "brake repair near me", you've come to the right place! We at Genesis of Doylestown are proud to provide drivers in Doylestown, Chalfont, and Warrington with all the maintenance services they need to keep your vehicle in tip-top shape.
On this page, you'll find all the information you need to spot problems with your brakes before they get out of hand and how our team of expertly trained technicians can help. Read ahead to learn more!
Signs That Your Brakes Need to Be Repaired
Your brakes are one of the most important parts of your vehicle. Without them, you wouldn't be able to drive safely. That's why it's important to know what to look for in terms of brake problems. Luckily, there's several easy-to-spot signs that your brakes need some attention including:
When you brake, you hear strange noises like grinding or squealing.
Your brake pedal and/or your vehicle vibrate when you press down on the brake.
You have to push down extra hard on the pedal to stop, also known as having a mushy pedal.
Your vehicle is pulling to one side or the other without your turning the steering wheel.
These aren't the only signs that your brakes aren't working, although they're the most common and if any of these signs sound familiar, it's time to have your brakes looked at by a professional.
How We at Genesis of Doylestown Do Repairs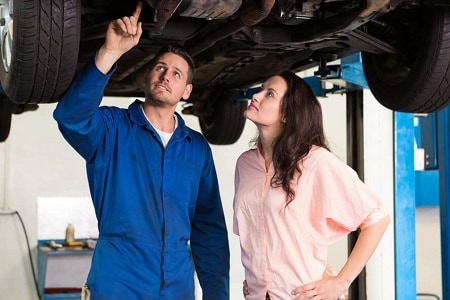 When it comes to having your vehicle serviced, you don't want your car to be in just anyone's hands. You want your vehicle to be in the hands of a professional that not only knows exactly what they're doing but also cares just as much as you do about solving your vehicle's problems.
That's exactly what you'll get when you bring your vehicle to our convenient on-site service center. Our expertly trained service technicians have all the knowledge and tools they need to diagnose problems and have them fixed quickly and effectively so you can get back on the road.
Time for a Brake Repair?
Now that you have a better idea of how to get to the bottom of your brake problems and how we can help, we hope you'll give us a call when you believe it's time for a service appointment. If that day is today, don't hesitate to give us a call at Genesis of Doylestown so we can get you scheduled for an appointment as soon as possible!