For those in the market for a full-size sedan, the Infiniti Q50 offers plenty of luxury and refinement, but the former flagship model for Hyundai, the Genesis, is seeking to dominate the class with its new G90 model.
Drivers in Doylestown, Warrington, and Chalfont can explore all the key differences between the 2018 Infiniti Q50 and the 2018 Genesis G90 with our in-depth, side-by-side comparison. Learn more about each sedan here, then find out where you can go to take a test drive of the winner.
Performance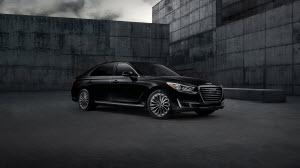 The G90 is equipped with a 3.3-liter twin-turbo V-6 that produces 365 horsepower and 376 pound-feet of torque, and a 5.0-liter V-8 that produces 420 horsepower and 383 pound-feet of torque. Both engines are mated to an eight-speed automatic transmission, with standard rear-wheel drive and optional all-wheel drive.
The base engine for the Q50 is a 2.0-liter turbo-four that produces 208 horsepower and 258 pound-feet of torque, with the optional 3.0-liter twin-turbo V-6 that produces 300 horsepower. To get a more powerful V-6 option, buyers will have to upgrade to the Red Sport models, at considerable cost. All options are rear-wheel drive, with all-wheel drive optional, and are paired with a seven-speed automatic transmission.
Not only does the G90 offer more powerful engines in both of its offerings, but it also has much better handling. This sedan was built for the winding roads, and the quick, smooth acceleration ensures that the ride will be exciting and sporty. In addition, its transmission is more precise and reliable than that of the Q50.
Features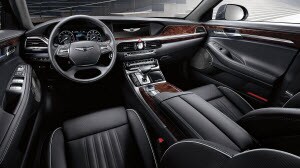 The G90 comes standard with a hands-free power-operated trunk, LED headlights, 22-way heated and ventilated seating, a 17-speaker stereo system, navigation, a head-up display, and a 12.3-inch touchscreen. Some available upgrades include rear-integrated controls, rear-seat illuminated vanity mirrors, 14-way and 12-way power-adjustable rear seating.
The Q50 comes standard with eight-way power seating, dual-zone climate control, and an infotainment system. To get the more advanced features, like an upgraded stereo system or rear seat convenience, you'd have to move high up the trim levels. In addition, some of the unique features for the G90, like the power-adjustable rear seating, simply aren't available for the Q50.
Safety
Not only was the G90 a Top Safety Pick in the past, but 2018 includes some advanced safety features to enhance its safety. Some active and passive safety features for the G90 include Driver Attention Alert, blind-spot monitoring, lane change assist, Emergency Braking with Pedestrian Detection, rear cross-traffic alert, lane keep assist, lane departure warning, a rearview camera, automatic high beams, and headlights with cornering capabilities.
The sparse safety offerings of the Q50 include airbags, a rearview camera, and traction control.
Test Drive the 2018 Genesis G90 at Genesis of Doylestown
Though they're both luxury sedans, the 2018 Infiniti Q50 doesn't offer nearly the same performance, convenience features, or safety technology as the 2018 Genesis G90.
Drivers in Doylestown, Warrington, and Chalfont can find out more about the unique features for the 2018 Genesis G90 by visiting Genesis of Doylestown to schedule a test drive. Contact us today!