Imagine yourself cruising through the streets of Doylestown, Chalfont and Warrington enjoying the luxurious comfort and performance of your new Genesis G90. After all, this stunning sedan is packed full of exciting features and technology you can enjoy. The last thing you'd want to see is the taunting light of one of your dashboard symbols beaming up at you.
The dashboard symbols could mean trouble that can force you to put your entire day on hold. However, not all of them are so severe. That's why it's critical to learn the differences between them and what they mean. Arming yourself with that knowledge is easier than ever thanks to our Genesis G90 dashboard light guide.
Warning Lights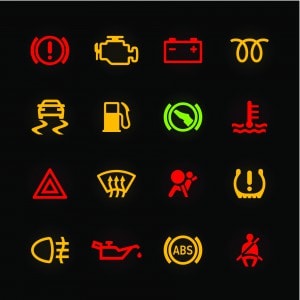 When you see any of the following lights, make sure you take notice. These are the warning lights you need to worry about. While they don't all mean you have to drop everything and head to the service center, you still need to know the proper course of action to take.
Airbags: This symbol looks like a belted passenger with an airbag deployed in front of them. If you see this light, your airbag may not deploy properly in the case of an accident.
Malfunction: This is the dreaded check engine light. Shaped like an engine block, this could indicate several different problems from emissions issues to imminent engine failure. Get this one checked out as soon as you can.
Brake Fluid: If your braking system is lacking fluid, you'll see a light that looks like an exclamation point and the letter P above the word BRAKE. Leaving your parking brake on also activates this light, so always check that first.
Low Tire Pressure: If you see a light that looks like an exclamation point inside an underinflated tire, it means your tire pressure is low. Keeping the proper amount of air in your tires is essential both for performance and safety. If there aren't any breaches in your tire, this is easy to fix by yourself.
Indicator Lights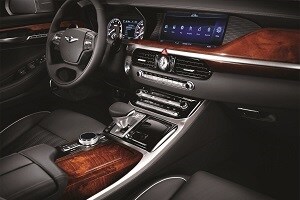 If you see any of the following lights, you can breathe easy. They don't indicate anything wrong with your G90 instead serving to notify you that one of your numerous features have been activated. Turning them off is as easy as the press of a button or the flip of a switch.
Cruise Control: This light simply depicts the word CRUISE and means that your cruise control is on.
Light On: This light looks like headlamps of a car and indicates that your brights are on. If the lines coming out of the lamp are diagonal and being intersected by a vertical wavy line, your fog lamps are on.
Eco: If you see this light, it means that you're driving in Eco mode. It looks simply like the word ECO.
Schedule Service at Genesis of Doylestown

If you see any of the lights as featured in our Genesis G90 dashboard light guide that warrant repairs, head over to the service center at Genesis of Doylestown. Our highly trained technicians can handle whatever problem may arise and get your G90 back on the road in no time.