If you're looking to cruise through the streets of Doylestown, Chalfont and Warrington in style, you need a luxury sedan. These incredible vehicles put you on a whole new level of comfort and performance that a regular sedan simply can't mimic no matter how hard it may try. After all the work you put in, you deserve a high-class ride. While the options are more limited than with regular sedans, choosing the best luxury car for your needs can be difficult.
We strive to make it easier with this handy car comparison. The 2018 Genesis G80 and the 2018 Lexus ES 350 are two of the greatest luxury sedans you can get your hands on. Only one can be right, however. Learn about the differences between the Genesis G80 vs Lexus ES 350, and discover which of these luxury cars is best for you. With further questions, feel free to reach out to us.
Performance
While all luxury cars look gorgeous, you still need to know what's under the hood. Both of these cars would blow the average sedan out of the water, but the G80 is a bit more powerful. With 311 horsepower on its base model, the ES's 3.5-liter V6 engine simply can't compete only allowing for 268 horsepower. If you want a little more, the available 5-liter V8 engine for the G80 can produce up to 420 horsepower.
The G80 has an additional advantage with the option for all-wheel drive. With this system, you can maintain control on the road in a variety of hazardous conditions like snow, ice, mud and more. With so much power packed into these cars, you need the extra control no matter how good of a driver you are.
Interior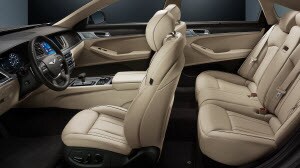 The interior of a luxury car is where they can really shine, and both of these interiors are gorgeous. With fine leather materials and heated seats, both can offer a comfortable driving experience few other vehicles can match. However, the G80 has a bit more room which will come in handy for taller drivers.
In the front, you can enjoy 41.1 inches of headroom and 45.7 inches of legroom. The ES, on the other hand, only offers 37.5 inches of headroom and 41.9 inches of legroom. If you have to carry some cargo on your drive, both vehicles have nearly the same amount of cargo space with the G80 having an advantage of 0.1 cubic feet.
Safety
With tremendous power under the hood and relaxing comfort inside, it's easy to forget the dangers of driving. No matter what kind of vehicle you have, driving is always a risk, so it's important to play it safe. Both of these cars are well made, but only the G80 received five stars in all crash test categories. The Lexus received only four stars in front collision rating and rollover rating.
To keep up with the latest technology, Genesis and Lexus has included advanced driver assistance features in these vehicles. Lane keep assist, forward collision braking and more are included to make driving that much easier for you. However, only the G80 features driver attention alerts. Fatigue causes a surprisingly large number of accidents each year, so the G80 detects abnormalities in your driving pattern and alerts you with visual and audio cues to keep you awake and suggest you take a break.
Genesis G80 vs Lexus ES 350 - Test Drive
While the Lexus is impressive, the 2018 Genesis G80 is the best choice if you want real high-performance luxury. The comparison can only teach you so much, though. If you really want to understand all the G80 can offer, you need to experience it for yourself. If you live in the Doylestown, Chalfont or Warrington area, you can at Fred Beans Genesis. Our expert team can show you everything about the G80 or any other vehicle in our expansive inventory. Visit us or give us a call to schedule your test drive today!