When you're behind the wheel of the new Genesis G80, you're in for a fun drive no matter where you go. With all the exciting features and capabilities, this stunning luxury sedan makes every ride thrilling. The last thing you want to see is one of those pesky dashboard lights coming on and ruining all the fun.
While they may be annoying, they are essential for alerting you to any potential problems your G80 might be facing. It's bad enough knowing there's a problem, but it's even worse not knowing the details. You won't have to worry about the latter again once you know what your dashboard lights mean. Become an expert on your car with our Genesis G80 dashboard light guide.
Warning Lights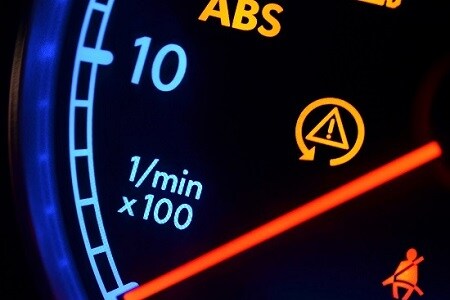 These are the lights you really have to worry about. Typically a warmer color like red or orange, these are the lights that alert you of a problem that needs to be addressed. They don't always require you to drop everything and head to the nearest service center, but you need to know the ones that do.
Anti-Lock Brake System: This warning light in the G80 looks like the letters ABS inside a circle. When you see this, your anti-lock brakes are faulty. You should still have regular brakes, but they won't be as effective.
Brake Fluid: If you see a light depicting the word BRAKE below the letter P and an exclamation point, then your entire braking system has a fault. Get this fixed immediately. It could also be your parking brake, so always check that first.
Malfunction: If you see a light that looks like an engine block, it's the malfunction warning or dreaded check engine light. Be sure to get this one checked out as soon as you can.
Charging System: This light looks like a car battery and indicates that your battery isn't charging the way it should be meaning you could be left stranded.
Electric Power Steering: Appearing as a steering wheel followed by an exclamation point, this light means your electric power steering is faulty. You can probably still steer, but it will be much harder.
Indicator Lights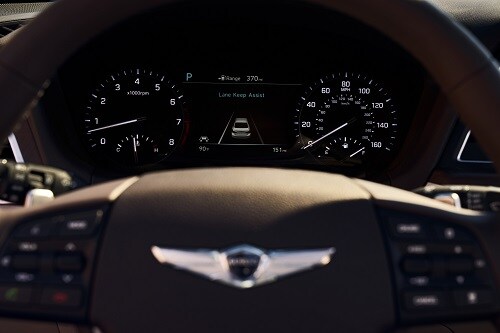 The following are lights you don't have to stress over. If you see these, it just means you've activated one of the G80's numerous exciting features. They're typically cool colors like blue or green and can easily be turned off.
ECO Mode: When you're driving in ECO mode, you'll see a light that simply displays the word ECO.
SPORT Mode: If you decide to switch it to SPORT mode, you'll see a similar looking light except it displays the word SPORT.
Cruise Control: When you activate your cruise control, you'll see a light depicting a speedometer followed by the word CRUISE.
Schedule G80 Service at Genesis of Doylestown

If you come across any of the lights that warrant maintenance as suggested in our Genesis G80 dashboard light guide, you need to find a service center that can get your Genesis back in top shape. For the best service in the Doylestown, Chalfont and Warrington areas look no further than the service center at Genesis of Doylestown. Our expert technicians know the G80 inside and out and can get yours back on the road in no time. Schedule your service appointment today!